Introducing the Halloween TownŽ Monster Maker App -
Ghoulish good times on your iPhone!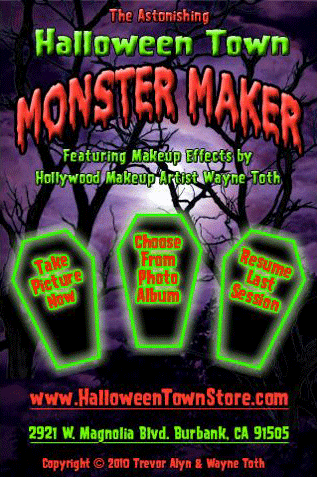 Go HERE for the iTunes Preview Page!
The Halloween TownŽ Monster Maker lets you change yourself, your friends, and your loved ones into hideous creatures, using special effects makeups created by a genuine Hollywood special effects artist! It features brushes and textures that allow you to paint and shade creatively like the pros do! The Halloween Town Monster Maker brings out the creator in YOU!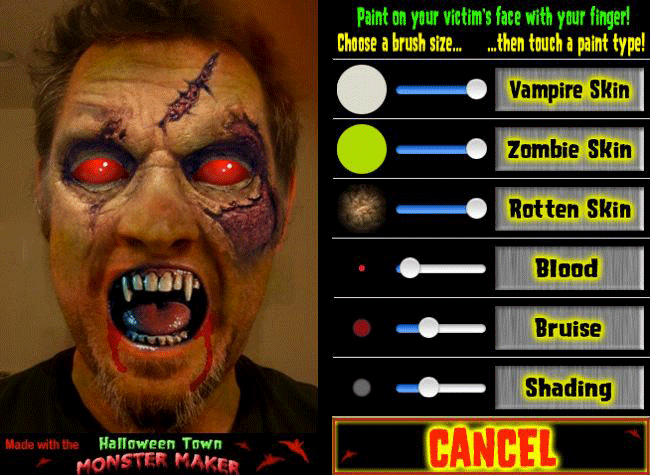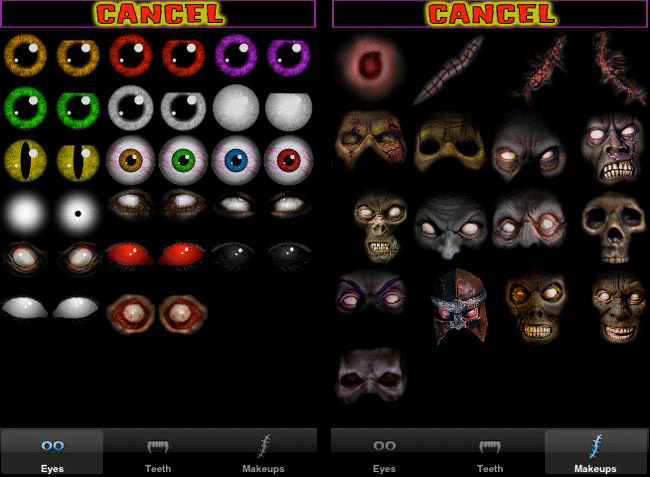 Here's how it works:
1) Take a picture of your victim!
2) Paint your victim's face with vampire skin, zombie skin, rotten skin, blood, bruises, and shading!
3) Add monster eyes, fangs, mouths, scars, wounds, and even whole makeups!
4) Save the picture, e-mail it to a friend, or post it to Facebook! (If you post it to facebook, wait 15-30 seconds before you quit to give the picture a chance to upload.)
The Halloween TownŽ Monster Maker uses special effects makeups by Wayne Toth, whose special effects work includes:
- Army of Darkness
- Rob Zombie's Halloween & Halloween II
- House of 1000 Corpses
- The Devil's Rejects
- Transformers 1 & 2
- Pulp Fiction
- Reservoir Dogs
- Return of the Living Dead III
- Drag Me to Hell
- From Dusk Till Dawn
- Men In Black
- A Nightmare on Elm Street 4: The Dream Masters
- Jason Goes to Hell: The Final Friday
- Death Becomes Her
- Bride of Re-Animator