NEWS UPDATED 09/08/14
We're thrilled to announce the opening of our brand new store - Halloween Town Kids!
it is located at 3013 W. Magnolia, next door to Halloween Town Costumes.
We have everything you could want to put a smile on the face of your little goblins!
Come on by and check out the amazing selection of costumes, makeup, pet costumes, clothing, toys, decor, novelties and more!
Everything you need for Halloween, dress up parties, school events, or just for fun!
Kids will love our Living Tree, Pumpkin people, and fun environment, so bring them on down!
Here are some cool photos of the new kids store!
NEWS UPDATED 12/15/12
cIts been a great season here at Halloween Town, and we are thankful to all of our Fiends out there that have been with us along the way!!
The Tribute to Classic Monsters group art show opening was a ton of fun and it was great to see so many familiar faces come out to join us!

It was terrific to have so many talented artists contribute to the show, and the outpouring of respect to makeup legend Rick Baker was great to see, even before the night of the show when everyone braved the rain to see Rick get his star on the Hollywood Walk of Fame the day before, it was really a fun time!

You can view photos of Rick baker and his paintings along with lots of other fun shots from the opening night with the rest of the artists and guests on our Facebook page right HERE

Special thanks to Rob Zombie for sharing his two original paintings done just for the show, it was a rare treat!
Stay tuned for upcoming shows and events on our Facebook page and you can also sign up for our email newsletter right HERE !
NEWS UPDATED 9/22/12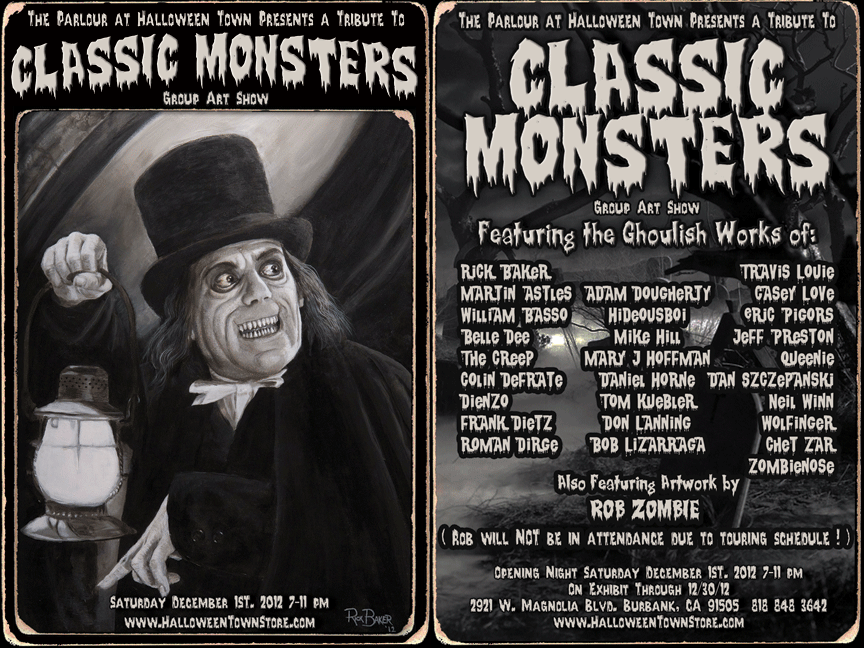 The Parlour at Halloween Town presents "A Tribute to Classic Monsters" Group Art Show!
- Opening Night Saturday, December 1st, 2012 from 7-11pm -
- On Exhibit Through December 30th 2012-
UPDATED ARTIST LINEUP:
- Rick Baker -
- Rob Zombie -
(Rob Zombie will NOT be in attendance due to touring schedule)
- Martin Astles -
- William Basso -
- Belle Dee -
- The Creep -
- Colin DeFrate-
- Dienzo -
- Frank Dietz -
- Roman Dirge -
- Adam Dougherty -
- Hideousboi -
- Mike Hill -
- Mary J Hoffman -
- Daniel Horne -
- Tom Kuebler -
- Don Lanning -
- Bob Lizarraga -
- Travis Louie -
- Casey Love -
- Eric Pigors -
- Jeff Preston -
- Queenie -
- Dan Szczepanski -
- Neil Winn -
- Wolfinger -
- Chet Zar -
- Zombienose -
News Added 6/4/12
We are thrilled to announce the addition of Master of Monsters and seven time Academy Award winner Rick Baker to the lineup of our 3rd Annual Haunted Mansion Tribute art show!
Rick's artistic skills extend well beyond the silver screen, and his exceptional two and three dimensional artwork is revered in art circles and has been featured on several magazine covers.
You can see his and all of our artists' work on opening night June 30th from 7-11
pm, and will remain on exhibit until July 21st., so don't miss it!
News added 4/12
The Parlour Gallery at Halloween Town Presents The 3rd Annual Tribute To The Haunted Mansion Group Art Show. Opening night Saturday June 30th, 2012 7-11pm. On exhibit through July 21st, 2012.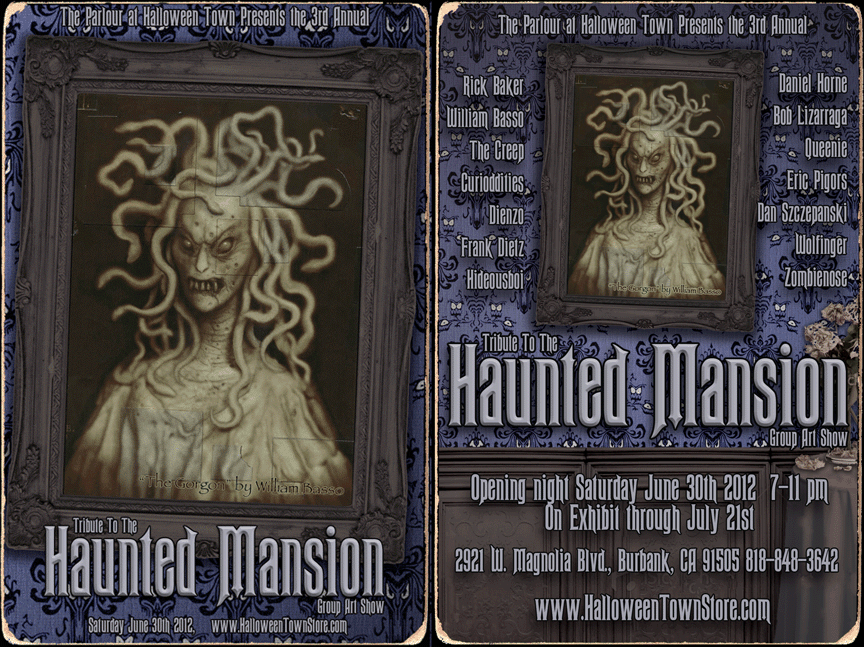 Current Featured Artists
- Rick Baker -

- William Basso -

- The Creep -

- Curioddities -

- Dienzo -

- Hideousboi -

- Bob Lizarraga -
- Eric Pigors -

- Queenie -

- Dan Szczepanski -

- Wolfinger -

- Zombienose -

News added 8/11
Halloween TownŽ is expanding! Costumes moving one block West!
We have opened a huge new location one block West of
our original store, Offering you
more space and more selection of; Mens costumes,
Womens costumes, Kids costumes, Masks, Wigs, Makeup
& Accessories!
We now have more room at our original location to offer more of your favorites;
Toys, Books, Gifts, Novelties, Apparel, Art, Props & Décor!
Halloween TownŽ Costumes
(One block West of original store)
3021 W. Magnolia Bl. Burbank, CA. 91505
818-848-3644
Original store phone number is now 818-848-3642
News added 01/11
The Parlour Gallery Presents The 2nd Annual Tribute To The Haunted Mansion Group Art Show. Opening night Saturday June 4th, 2011 7-11pm. On exhibit through July 3rd, 2011.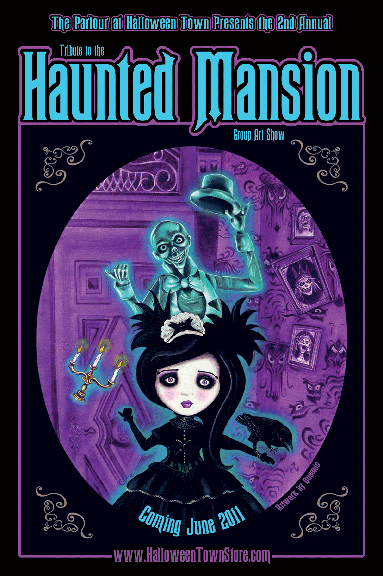 News added 10/2010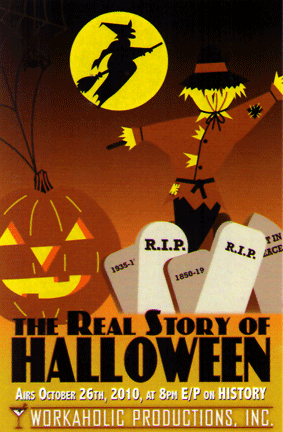 Check out Halloween TownŽ on The History Channel's new special 10/26/10!
News added 10/2010
Introducing the Halloween TownŽ Monster Maker App -
Ghoulish good times on your iPhone!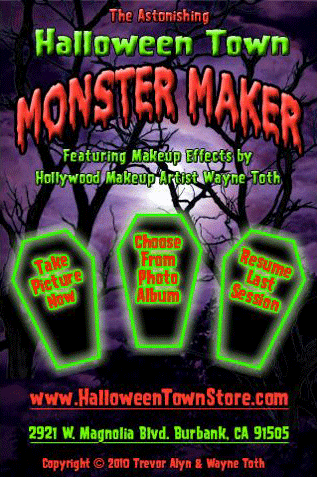 Go HERE for the iTunes Preview Page!
The Halloween TownŽ Monster Maker lets you change yourself, your friends, and your loved ones into hideous creatures, using special effects makeups created by a genuine Hollywood special effects artist! It features brushes and textures that allow you to paint and shade creatively like the pros do! The Halloween Town Monster Maker brings out the creator in YOU!
News added 3/15/2010
BECOME A FAN!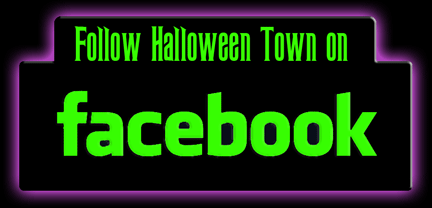 news added 3/1/2010
A TRIBUTE TO THE HAUNTED MANSION ART SHOW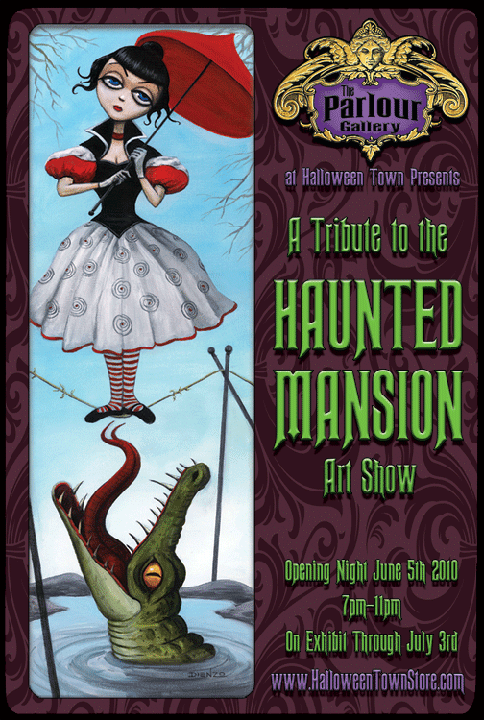 Opening Night June 5th 2010 7:00-11pm
On Exhibit Through July 3rd
FEATURED ARTISTS-
Queenie
Eric Pigors
Bob Lizarraga
Hideousboi
Frank Dietz
Dienzo
William Basso
Curioddities
Noah K
Shannon Shea
The Creep
John Wrightson
Zombienose

More artists to follow
news added 9/12/09
news added 12/17/08, updated 4/18/09
Step into The Parlour at Halloween Town !
Halloween Town is proud to announce the official opening of The Parlour, a section of our store dedicated to bringing you some of the finest contemporary artists available today !
In the unique atmosphere that only Halloween Town can provide, we will be hosting several themed group art shows in 2009 and beyond !
We have also created a new MySpace page dedicated to The Parlour, so click on over and be our friend!
Click the banners below for more info on our previous shows!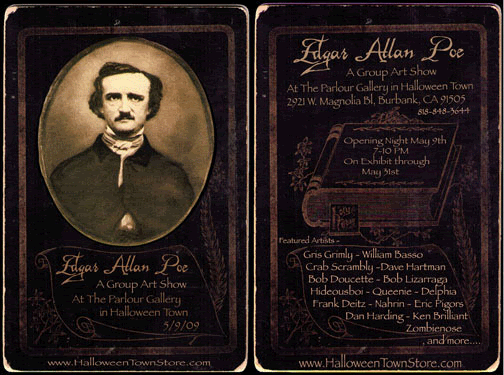 Enjoy the promo video for the Poe show!
Check back often as we will be holding monthly themed shows February through June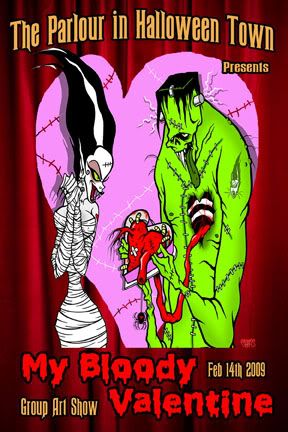 Check out this video from the Bloody Valentine Show !!
news added 7/15/08
Thanks for a Spooky Time at the Eric Pigors book and art event!
Thanks to everyone that came out, and to the Spookytime guys for adding some ghoulish fun to the evening!
Check out the video below, and for pictures CLICK HERE!
news added 6/9/08
Thanks to Gris Grimly and everyone involved for a great event!
CLICK HERE FOR PICTURES!
news added 6/9/08
OUR NEXT SHOW !
A super spooky event with the creator of Toxic Toons, Eric Pigors!!
news added 5/08
Gris Grimly Event June 7th 2008
news added 12/07
THANKS FOR A GREAT EVENT !
We'd like to thank everyone that attended our "Halloween" DVD signing event with Tyler Mane in November !
Despite the rainy, yet mood-setting weather we had a great turnout and look forward to our next event!
Make sure to sign up to our mailing list for updates!
Check out our MySpace profile for event pics courtesy of Scott at "the Shape of Fear" site!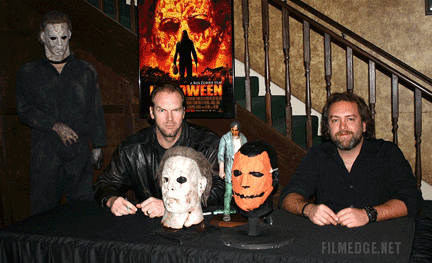 news added 11/07
Thanks for making the first Halloween season at our giant new fully themed store such a good time! If you havent, please come by and walk among the spooky buildings of Halloween Town and shop our even larger selection of the most ghoulish goodies anywhere! We've decked the halls for some Holiday spirit! New Location:
2921 W. Magnolia Blvd. Burbank, CA 91505 New Phone: 818-848-3644 Be sure to sign up to our Mailing List for news and updates Check out our MySpace profile HERE!
If you have any special requests for stuff you'd like to see on the site, or would just like to say hi, please send us an EMAIL !