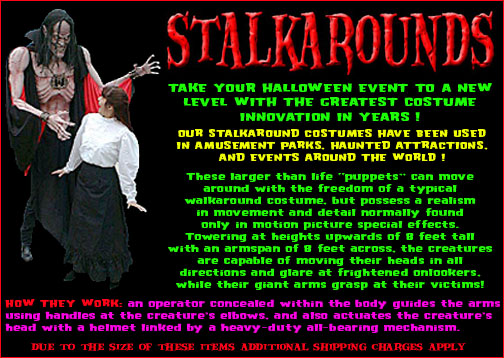 CHECK OUT THIS VIDEO TO SEE THE STALKAROUNDS IN ACTION!

View: All | 10 - 20 - 30 items per page Ex Mortis Stalkarounds


Ex Mortis is one of the leading suppliers of Haunted Houses, amusement parks, and home haunters in the country, and now the entire product line is available right here at Halloween Town - your Halloween headquarters!


Ex Mortis creates lifelike puppets,costumes, spooky props, tombstones, graveyard decorations and more that will make your haunted event the Halloween hit of the year!


Ex Mortis was created by special makeup effects artist Wayne Toth, a 30 year veteran of countless horror movies including all of Rob Zombie's films!


Ex Mortis Stalkarounds have been use in countless Haunted Halloween events around the globe.
Haunted House owners rave about the customer reactions they receive from the amazing Stalkarounds (sometimes referred to as Stalkabouts), as they can be used for line entertainment or inside the haunted house itself for a terrifying effect!

Here is a height comparison diagram to show the amazing height of the Ex Mortis Stalkaround!