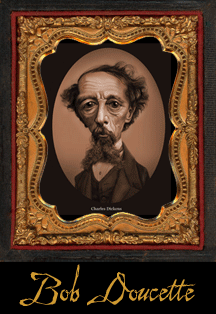 Bob Doucette is the director of many well known animated children's programs including the PBS hit Clifford's Puppy Days based on the Scholastic book series Clifford the Big Red Dog by Norman Bridwell. Doucette has also worked on such award winning shows as Stephen Spielberg Presents: Tiny Toon Adventures and Animaniacs. Recently he is directing a second season of a CGI series Dive Olly Dive for Mike Young Productions. Though it is currently only shown on the SPROUT in the USA it is a big hit from Australia to Germany. His independent animated films won him many prestigious awards and honors and his MFA thesis film Pink Triangle is in the permanent collection at the New York Public Library.
Doucette has worn many titles as an artist from set designer to puppeteer and has a wide variety of interest. What started as a puppet hobby segued into doll making career. His Ben Franklin doll, created for the White House Christmas tree, is in the permanent collection of the Smithsonian. Many of his dolls are in the private collection of Demi Moore and have been featured in magazines articles, TV programs and sold in galleries.
His many years of theater work have informed his story-telling talents. His writing includes songs, for which he is a member of ASCAP, children's books, two to date: The Curse of Ivor, a pastiche of horror movies and Why a Raven is like a Writing Desk, a tribute to the works of Lewis Carroll. He also lends his hand to the development and creation of characters for the many series he works on.
He continues to work on his painting and sculpture while day lighting at his animation career as a director and sometime producer. He would love to have more gallery shows of his paintings and has been recently investigating the possibility of publishing a book of his artwork.
Doucette was born in Waterville, Maine, educated at Rhode Island School of Design and has a master's degree in animation from Cal ARTS and at present lives in Los Angeles California.