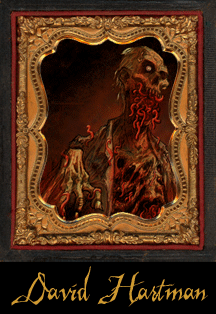 A 12-year veteran of television animation, the multi-talented Hartman has worked as an Emmy Award-nominated director, producer, illustrator and character designer throughout his career.
Hartman's directorial credits include "My Friends Tigger & Pooh" for Disney, "Roughnecks: Starship Troopers Chronicles", animé series "Astro Boy" for Kids WB, "Jackie Chan Adventures." and many more.
Additionally, Hartman recently directed two animated music videos for rock musician Rob Zombie.
As a character designer, Hartman earned accolades for his unique designs featured in "MTV's Spiderman." Hartman's other credits include visual effects supervisor for the cult film "Bubba Ho-Tep" and production consultant for Showtime's "Masters of Horror" series.
In addition to his television animation work, Hartman is an award winning illustrator whose artwork graces numerous comic books, magazines and music albums covers.