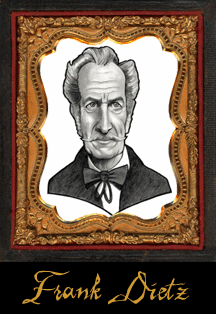 Inspired at age 5 by a viewing of ABBOTT & COSTELLO MEET FRANKENSTEIN, award-winning artist Frank Dietz has found success in the film industry as a writer, producer, director, actor and animator. As one of the new wave of classic monster illustrators, he was inspired by the work of artists like Basil Gogos, Frank Frazetta, Jack Davis and Mort Drucker. Frank pays tribute to his heroes through oils, charcoal, pastel, watercolor and pencil.  
   Frank grew up on Long Island, N.Y., and then attended the State University at Oswego, where he majored in theatre and art. He starred in a series of now-cult low-budget horror films like ZOMBIE NIGHTMARE, ROCK N' ROLL NIGHTMARE, BLACK ROSES and THE JITTERS.
Bitten by the film bug, Frank then moved to Los Angeles, where his screenwriting career began. He wrote the scripts for many independent features, including NAKED SOULS, COLD HARVEST and the MAGIC IN THE MIRROR series.   
  In 1996, Frank returned to his artistic roots and joined Walt Disney Feature Animation as an animation artist. His work can be seen in such films as HERCULES, MULAN, TARZAN, FANTASIA 2000, ATLANTIS - THE LOST EMPIRE, TREASURE PLANET and HOME ON THE RANGE.    
During this period Frank created the SKETCHY THINGS series of classic monster sketchbooks, which became extremely popular with genre fans. This lead to years of commissions for horror and fantasy books, magazines and convention appearances. In October 2006 he was invited to host a solo Gallery Show of his oil paintings and sketches in Burbank, CA.   
  In both 2007 and 2008, Frank was awarded the Rondo Hatton Classic Horror Award for "Artist Of The Year." This year he hands over his crown to none other than his hero, Basil Gogos.