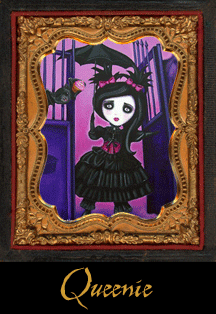 Queenie, the original goth valley girl, has been on the LA spooky art scene for a number of years.
As a young quirky girl, carving the butter at the dinner table, sharing her vision of black and pink stripes with the world was her goal.
Completely self taught in every medium of art she wants to attempt, she has found her niche and passion as a playful gothic dollmaker, painter, and digital artist.
You can find her most famous creations, the deadly cute Pocket Full of Posiez™, on various merchandise online at pocketfullofposiez.com and in the coolest stores worldwide.