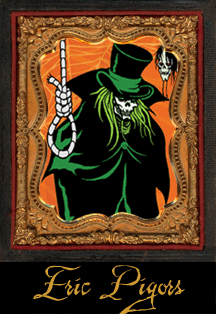 ERIC PIGORS was Influenced by the artwork of EC COMICS Horror, BK TAYLORS ODD RODS stickers, WACKY PACS, MAD magazine, TEX AVERY and WALT DISNEY,and the TV shows THE MUNSTERS and ADDAMS FAMILY. All of the above gave ERIC his foundation and creative influence in finding his own uniquely style he calls ,"TOXICTOONS.".
He spent 15 years at WALT DISNEY FEATURE ANIMATION studios doing art on such films as LION KING,TREASURE PLANET, ALLADIN, HERCULES, BEAUTY AND THE BEAST ..... and selling an original feature idea to them called..."SILLY HILLBILLIES ON MARS." He also did his own 7 minute animated film called,"LET'S CHOP SOO-E!" for the CANDIAN company INTERNATIONAL ROCKETSHIP.
The company POSTERPOP has put out a line of stickers of his art with their other LOWBROW artists and has had MEZCO TOYS produce a line of toys based on his art.
He has done tour shirts for the bands METALLICA,THE MURDERDOLLS, THE GHASTLY ONES,THE GENITORTURERS, PSYCHOCHARGER and more.
He curently lives in Valencia,Calif with his wife DENISE and their 2 cats, 1 fish and 2 headed monster tied up in the garage.