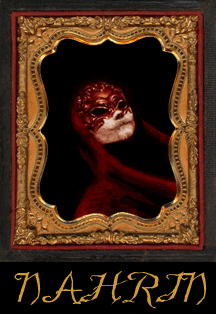 "NAHRIN (a.k.a. Nahrin Sarkisova)
Creation, in many forms, has been as natural as breathing for Nahrin. Having had a wide range of studies, Nahrin is a trained classical pianist, enjoys writing, designs jewelry when time allows, and is an advanced fashion design student at the prestigious FIDM. She has, also, worked in the animation industry for 3 years.
Since the day she put crayon to paper, art has been an obsession that communicates her passion for storytelling, mythology, and love of fashion throughout the pages of history. The dark fantastical and dramatic silhouettes define the direction of Nahrinís vision. With such foundations, a diverse palette applied to a creative mind bares fruit of a unique imagination and spirit."