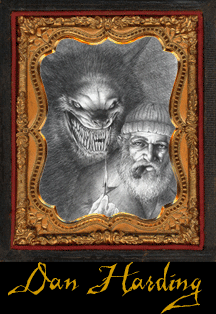 Dan was born and raised in central New Jersey where he grew up with a passion for anything to do with horror. Early on reading old horror zines , comics and books as well as an unhealthy amount of watching television. This sparked his interest in art, wanting to create his own monsters. He spent his teenage years doing art for friends and bands until he moved to PA for quite a few years where art had taken a back seat to life. In the late 90's he began to feel the urge to get back into art so he started to pick up oil painting.
Never having any formal training it was a long process but he loved every minute of it. He eventually began to get jobs doing CCG art and magazine and book covers here in the US as well as Europe and Canada. He eventually moved back to NJ where he still resides continuing to paint and work in fine art restoration.
However, Dan has never been content with his work " I feel like I was always so suppressed by creating what publishers and game companies wanted to see that I began to get stale with art. I never really painted something I thought was cool. The past couple of years I have begun to paint what is inside me and I am excited about where my work is heading!